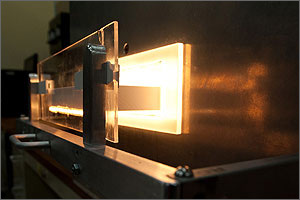 Creating solar panels takes lots of energy and time in a furnace.  A new "Optical Cavity" furnace developed by the NREL can create more efficient solar cells.
" … Optical Cavity Furnace … uses optics to heat and purify solar cells at unmatched precision while sharply boosting the cells' efficiency."
" … can … maximize efficiency while minimizing heating and cooling costs."
The end result is more efficient solar panels.
Via:  National Renewable Energy Laboratory  LINK
Post Details
|
Permalink
|
Category:
Solar