Solar Leads Cleantech Investment Space
Solar, electric vehicles and enabling infrastructure, and green building see uptick in investment, according to the Cleantech Group's market research.
Deloitte
and Cleantech collaborated to develop the quarterly investment results. ...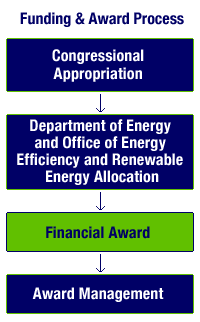 ... "The billions in government funding being allocated globally in clean technology have begun emboldening private capital, which has in turn helped propel clean technology to the leading venture investment sector, now eclipsing biotech and IT, said Dallas Kachan, Managing Director, Cleantech Group. The two largest venture deals (Solyndra and Tesla Motors) and the largest IPO (A123Systems) this quarter were all recipients of U.S. government funding. ... " ...
Via The Cleantech Group:
2009 Clean technology venture investment
DOE EERE Energy Efficiency and Conservation Grants Program will fund energy efficiency and energy conservation opportunities
: "The Energy Efficiency and Conservation Block Grants (EECBG) Program, funded for the first time by the American Recovery and Reinvestment Act (Recovery Act) of 2009, represents a Presidential priority to deploy the cheapest, cleanest, and most reliable energy technologies we have - energy efficiency and conservation - across the country. "